SMME Development: Provincial Motor Transport
In 1999, the Provincial Motor Transport worked with Wesbank to develop a SMME programme aimed at targeting emerging entrepreneurs to give them a share of government repair contracts. The aim was to pull into the net, micro business people sitting at the street side, repairing exhaust pipes, windscreens or undertaking welding work. These businesses will be mentored until they can take on engine overhauls and the like. The initiative is provisionally known as Project EMSMA (Emerging Micro Small Medium and Agents).
Underlying Principles of the Project
Non core services and those that can be performed more efficiently in the private sector will be outsourced.
SMME operations will be given preference in all outsourcing contracts.
Every effort will be made to ensure sustainable development of SMME in geographical areas where the need has been identified.
No compromise will be made on the standard and quality of services rendered in keeping with Department of Transport safety standards.
The Department remains committed to free and fair principles (anti corruption and anti fraud).
One of the conditions of the Fleet Management contract outsourced to Wesbank, is that 80% of the repair work has to be allocated to emerging contractors. Wesbank is responsible for the allocation of all repair work. Their present merchant base is 850 of which 593 of these merchants are categorised according to SMME / EMSMA.
This proposal has been accepted by the Board of the First National Bank in principle and will be rolled out into the entire corporate business world of South Africa. The next phase is the implementation. The project will be advertised as widely as possible and a database for applicants will be developed.
Approach
The following classifications were developed and the project had been launched by Minister Sbú Ndebele early this year.
Type of Entity
Classification
Emerging

1 or 2 staff
Work granted < R5 000 p.a.
Mobile Workshop

Micro

2 or 5 staff
Work granted R5 000 to R10 000 p.a.
Fixed Premises

Small

6 to 10 staff
1 qualified artisan
Work granted R10 000 to R150 000 p.a.

Medium

> 10 staff
2 qualified artisans
Work granted > R150 000 p.a.
Capacity rated on size of premises and competence

Agent

Accredited agent of Manufacture
Franchise holder
Different development plans are put together for each category of merchant, i.e. the extent of intervention will be greater for an emerging contractor.
Success Stories
In terms of the Road Traffic Act, all vehicles with the Gross Vehicle Mass (GVM) exceeding 10 000 kg must be fitted with retro-reflective material by 31 December 2000. This area provided an ideal opportunity for true development of Previously Disadvantaged Individuals (PDI's). Mr Mduduzi Sithole and Qinsela Zulu who are both young and part time students were identified as one of the suitable candidates for this opportunity. The contract was, as a result, awarded to them. They are based in Ulundi, hard workers and passionate about building a future for themselves. Their enthusiasm to succeed is by far their most outstanding characteristic. Good discount prices were negotiated on their behalf with suppliers.
The Cabinet has resolved that all Province owned vehicles must bear registration number plates with a KZN prefix and be fitted with decals identifying respective Departments. Provincial Motor Transport re-registered all the vehicles that did not have KZN prefix before registration numbers. This also provided another area for development of PDI's. A contract to supply and fit new registration numbers with a KZN prefix was also awarded to PDI or emerging contactor.
The Road Traffic Act requires that all vehicles with a GVM from 7500 kg and more must be fitted with mud flaps, body under-runs and speed limit stickers. Mr. Phillip Tabete of Phillip Panel Beaters based at Hammarsdale has been identified to do the work. Mr. Tabete's workshop lacks equipment and is in a poor condition. The revenue generated from this project will benefit him to improve his workshop conditions and be in a position to meet required panel beating standards.
Provincial Motor Transport and Wesbank First Auto provide close guidance, full support and monitoring. Various funding mechanisms are being considered to facilitate the process. We are looking forward to have more emerging contractors to mentor once applications have been invited and funding support mechanisms are in place.
Another field that is promising is development of Transport Officers at grass root levels as Fleet Managers. Provincial Motor Transport has approached University of Natal to offer a Fleet Management Diploma with the view to develop Transport Officers at lower levels. A course module is being put together with the intention to start the programme in 2001. This is intended to open opportunities for development and provide career path for our future Fleet Managers.
The picture below reflects some of our emerging contractors busy at workshops, fitting retro-reflective tapes, decals and KZN registration number plates under the guidance of Provincial Motor Transport staff and technicians.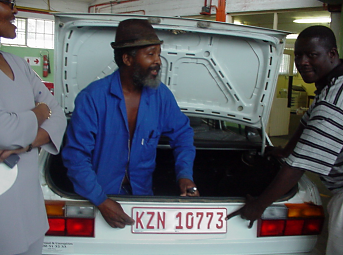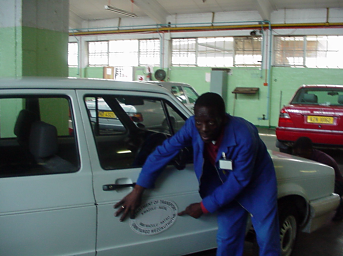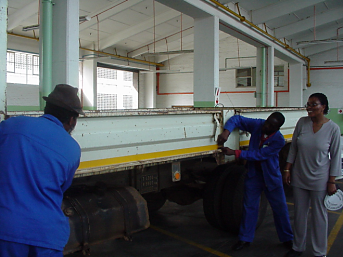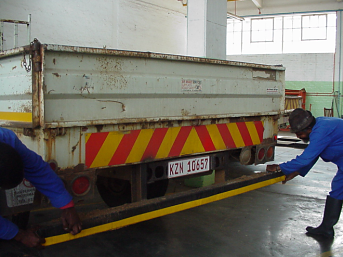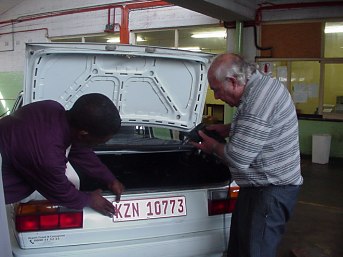 back