Women Dominate in the Aerial Survey Section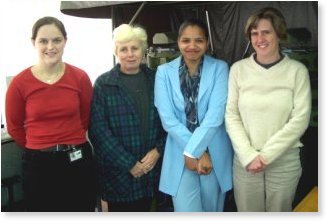 (from left to right)
Shanleigh Hugo, Sheila Whitehead, Laverne Volmink and Michelle Abramson
Aerial Survey forms part of Survey Services under the Chief Directorate: Implementation. We are a very small section comprising of just five staff members, namely Peter Summers (Control Industrial Technician), Laverne Volmink (Chief Industrial Technician); Shanleigh Hugo (Industrial Technician); Sheila Whitehead & Michelle Abramson (both Principal Auxiliary Services Officers). We may be a small section but we definitely carry our weight!
Survey on the whole plays a major role within the Department. When it is decided by management that a road is required in a particular area or if an existing road needs to be realigned, Survey is the first team on the job. Firstly, within survey management, it is decided whether the survey is to be done by aerial or ground survey methods. Aerial Survey normally undertakes the larger projects. If Aerial Survey is involved, we get an aeroplane out to "fly" the area. Basically what is done is that the plane flies over the area and takes aerial photographs from a particular height along a path that we decide upon. We then have the photographs scanned and these scanned images are used to map/survey the area. We use what is known as a Digital Photogrammetric System to survey by aerial survey methods. What that entails is that we download the scanned images onto our system/ computer and then use "goggles" known as "crystal eyes" to view the images in 3-dimensional format. It is imperative that we are able to see in 3-D as the mapping that is produced must have X, Y and Z co-ordinates. In order to obtain a 3-D model of the area, 2 consecutive photographs are used, with an overlap area of 60% between them.
Mapping or surveying the area entails using a computer software package called Microstation and an add-on package called uSmart to show what detail can be found in the area. We map features such as roads, buildings, power and telephone lines, drainage, and anything else that would be affected by, or have an effect on the road design. We also map spot shots and contours, which show what the levels or heights of the area are.
Once the survey is completed an orthophoto is produced. This is basically a photographic backdrop of the area. This is very useful as anyone looking at it would not have to have a technical background in order to know what the area looks like, as opposed to a normal survey plan.
Once all of this has been completed and edited, everything is handed over the road designers in the Geometric Design Section, who then are able to decide on the best route for the road to take as they will now know exactly what the area looks like and what would be affected by the route.
This is just a very broad overview of what the Aerial Survey Section of the department does.
Read more about the ladies of Aerial Survey
Laverne Volmink
is the Chief Industrial Technician. She joined the Department in March 1995 as a Senior Auxiliary Service Officer. A year later she was given the opportunity to study through the Department, and chose to complete a Diploma in Survey through Technikon Natal. She completed her Diploma in 1998 and is in the process of completing her B.Tech degree at present. After a brief break from working at the Department between 1999-2000 she re-joined the Department in June 2000. She was promoted to her current rank in 2002.

Shanleigh Hugo is an Industrial Technician. She joined the Department of Transport in July 1999, as a Student Industrial Technician. She obtained her National Diploma in Surveying, Cum Laude, on 1 July 2002, with 19 distinctions out of 24 subjects, as well as 14 merit certificates; a merit certificate is given to the person with the highest final distinction level result for a particular subject in a particular semester. She was also awarded the prestigious Optron Award, which is administered by ITESSA, for the student who has competed all the Technikon administered subjects with the highest overall result, in South Africa, for the year 2001. On completion of her diploma she was promoted to the rank of Industrial Technician, which is the rank she currently holds. She has worked in the Aerial Survey section since January 2002.

Sheila Whitehead is a Chief Auxiliary Services Officer, who started her career in the Department in May 1990, after being a stay-at-home mom for 16 years. She commenced at the Department as an Auxiliary Services Officer in Ground Survey doing the draughting of all survey plans. At that stage tracing was done with ink & stencils. In 1993 the Department upgraded and moved into the computer age, with draughting being done with CAD (Computer Aided Draughting), using the Microstation package. Her duties at present include the draughting requirements of both Aerial & Ground Survey as well as all administrative work in the sections such as the answering telephones, sending and receipt of faxes, ordering of supplies, and so on. She also does the monthly budget reports.

Michelle Abramson is a Principal Auxiliary Services Officer, who joined the Department in January 1993 as an Auxiliary Services Officer in Aerial Survey. She is responsible for the cosmetic editing of plans for both the Ground and Aerial Survey sections. She is also involved in doing bridge and culvert site surveys and the editing of plans. Her duties include assisting with the budget and the administrative work for the section.


back