Bathandwa Nogwanya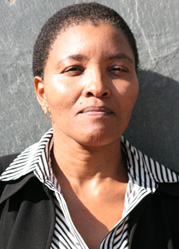 Bathandwa Nogwanya was born on 3 September 1962. She is single and the mother of 2 children.
She is currently the Acting Director of Provincial Motor Transport. This is the Directorate responsible for facilitating motor transport needs of all Departments in the Provincial of KwaZulu-Natal.
PROFILE OF CAREER PATH
Where do you come from and where do you see yourself going?
I first joined the Public Service in 1982 as a clerk after Matric. I became very passionate about furthering my studies. I, indeed studied a BCom degree and BCom Honours from the University of Transkei. I also studied a Masters degree in Commerce from the University of Natal. From 1982 – 1998, I worked in the Eastern Cape as a public servant and the last position held was an Administrative Officer. During 1996 and 1997, whilst I was studying towards my Masters Degree, I was a lecturer of Economics at the University of Natal. In 1999, I became a Deputy Director at Provincial Motor Transport. Currently, I am acting as a Director within the same Directorate.
Challenges in career
Generally, people lack confidence in black women. So, I am not an exception. Therefore, I have to work hard and be brave to prove the general perception wrong.
Goals
My goals are to provide my children with the best education so that they can be independent. I also want to see myself in a very responsible and accountable position.
What motivated and inspires you?
Life itself is a great source of inspiration, knowing that I'm here for a reason motivates me to be the best that I can be in all aspects of my life. There is a quote that says, ' Nobody ever drifted into greatness', thus the people around me inspire and motivate through challenges and success.
How do you balance your family and work life?
As a single parent and a manager, maintaining a balance between my family and work life is a daily challenge. I just give the best love to my children and ensure that their needs are reasonably met. I have also trained them to adjust to my work demands.
What message do you have for other women?
Women should not underestimate the integrity and potential which God has blessed them with. It is important to have a dream and courage and belief that you have the power to turn it into a reality. There is no one who has more power on earth to make things happen for you than yourself.


back