Financial Management Systems Team/Head Office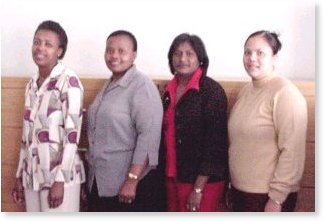 (from left to right)
BB Mtolo, JN Ddludla, B Govender and U Plaatjies
The Department of Transport maintains Financial Management System section for the Administration of Corporate Services Directorate budget. The section has become part of the Finance Directorate with the Department's restructuring. The team of ladies in the section are involved in the most crucial aspects of running a department, i.e. payments made for services to suppliers both internally and externally.
The FMS section, under the leadership of Barbara Govender, is an excellent working environment with staff, who are hardworking and dedicated. They have proven beyond doubt that they are able to outgrow male domination and leadership. This committed, dedicated and loyal team are able to handle seven different directorates' financial matters. Each staff member works with enthusiasm and as a result is able to process approximately over 300 payments with accuracy.
Staff not only work with Metanet but also with Persal whereby Claims / S&T / Overtime / Fuel claims, etc are processed. In an unassuming and quietly confident way these ladies go about their daily duties ensuring that all officials' requests are met. The FMS ladies positive attitude towards their responsibilities has enabled them to cope with unrealistic deadlines with very few errors. Many times staff in FMS have to give of their personal time unconditionally, whenever the need arises. Not only does FMS help their clients but their immediate colleagues as well.
The FMS ladies are a team of progressive and creative thinkers, who solve problems relating to their major functions. Visit the FMS section for all your queries and you will find a team of women who are helpful, approachable and always obliging.


back