Jabu Bhengu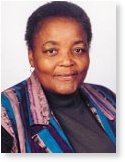 Jabu Bhengu holds the rank of Director of the Development Directorate at the Department. In this position she leads a team of highly dedicated professionals responsible for the Rural Road Transport Forums, Zibambele, Vukhazake and other Departmental pilot projects like the Rural Mobility Programme.
Jabu hails from Sobantu, one of the oldest townships in KwaZulu-Natal. She is the mother of two grown-up children, Duduzile and Gabangaye.
After Matric at the famous Inanda Seminary School for girls, she trained as a teacher at the University of Zululand. She obtained her junior degree at the University of Transkei (UNITRA). She furthered her studies at the University of Natal (UNP) where she obtained an Honours degree in English and later the Advanced Diploma in Information Studies.
Jabu has vast experience as an accomplished educator and manager. She was amongst the first crop of women to head Black high schools in KZN in the 1980ís. Except for Lower Primary schools it was unheard of during the 1980ís for women to head a high school. She later took on the position of education co-ordinator at the Tembaletu Community Education Centre, in Pietermaritzburg. She also worked as a Regional Manager in the KZN Land Reform office in the Department of Land Affairs, before joining the Department of Transport as Director: Development.
A voracious reader and thinker, Jabu has diverse interests on matters of intellectual pursuit. Unlike many mortals who quote famous people as their inspiration, Jabuís source of inspiration is her mother, Vera MaMpangase Sikosana who believes that the most important achievement in life is being able to make a difference in other peopleís lives. As a teacher and development worker that is what the challenge in life has been for Jabu. She takes pride what her children have said that they have learnt from her, namely instilled work ethic and the ability to interact with people from diverse backgrounds.
The message Jabu has for other women is:
Know yourself, love yourself, surround yourself with positive thinkers and people who bring a spark to life. Give of your best at home and in the workplace. But never think of yourself as a superwoman. Never underestimate the contribution that other people can make to a programme. Every person or idea counts, but ideas have to be thought through before implementation.


back