Michal Chetty
First Female RTI Instructor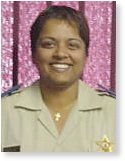 Michal has the distinction of being the first female Instructor to have been appointed at the College as an Instructor and hold the rank of Principal Provincial Inspector. The Department, particularly the RTI, is moving forward to becoming more gender friendly and have recently made the appointment of additional three ranking female officers. In total, there are seven ranking female officers currently in the RTI.
She has been employed at the Department since November 1997, and trained as a Traffic Officer at the Traffic Training College in 1999, completing the course Cum Laude. She was placed as Top Student of that particular batch of trainees.
She joined the Traffic Training College in 2000 as Logistics Assistant and in 2001 was appointed as the first female instructor at the College. She has subsequently qualified as an Examiner for Driving Licences. Currently, she is an Instructor for the Examiners of Driving Licences course and also assists with the training of student Traffic Officers.
Michal says "Personally, I have always believed in continual self-development, I am currently studying towards a B.Tech (second year) in Traffic Safety Management. Road Safety is an issue that is of immense interest to me. I am a firm believer that with effective law enforcement and appropriate education of road users at all levels, Road Safety will become a responsibility of all South Africans. Road Safety will then be a reality and not just a sought after illusion beyond our grasp. I read once that Road Safety is not something you do for a community, but rather something you do with a community."
When time is available Michal enjoys playing sport and has recently taken to road running. She says that she may well be among the masses come next Comrades Marathon.
Till then,
ARRIVE ALIVE


back