Michelle Dally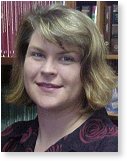 Michelle Dally is KZNDOTís Librarian and Internet Coordinator.
In her role as Librarian, Michelle is responsible for information services to KZNDOT, which includes the maintenance and updating of the library collection; provision of information in response to requests from staff; the provision of a legislation alerting service; the circulation of serial publications; and the provision of a bimonthly newsletter, Library News.
She is currently in the process of completing third-year subjects through UNISA towards a Bachelors Degree in Information Science, and plans to do her Honours in Information Science thereafter.
One the highlights in Michelleís career at the Department took place in June 2000, when the US Federal Highway Administration and KZNDOT sponsored her to undertake a study tour of the USA. The purpose was to attend presentations given by US-transportation librarians, in order to learn from their experience for implementation at KZNDOT, and to attend the Special Library Association (SLA) Annual Conference.
In her role as Internet Coordinator, Michelle is responsible for ensuring that both the Departmentís Internet and Intranet sites are kept up to date by sourcing material from the various Directorates; marketing of the sites to internally and to the public; liaising with SITA, who are responsible for publishing on the sites; the planning and sourcing of information for the Internetís front page features; and the editing of documents submitted for these mediums as well as the occasional writing of articles for these mediums. Additionally she coordinates all of the queries received via the Internet and Intranet sites, and ensures that they are forwarded to the correct Directorate for reply.
In her private life, Michelle has been married to Russell for almost 12 years and has an adorable 2-year old daughter, Roslynd Mariť. "Working full-time, studying part-time and having a family is not easy, especially since I am somewhat of a perfectionist. I give off my all to whatever I am doing and expect to do it well. But I am blessed to have an incredibly supportive husband and extended family support from my parents," she says.
In her limited spare time, Michelle is an avid reader and collector of crime and legal novels. To unwind she says that the best form of therapy for her is weeding her extensive garden Ė "There is nothing better than pulling out weeds to get rid of stress, although lazing on the couch in our home pub listening to Def Leppard on the stereo runs a close second."
Michelleís message to other women is:
Do not sit back and expect good things to come to you. Nothing worthwhile in life comes easily; you need to work hard at your job, your marriage, raising your children and whatever else you do. Dedication to whatever you are doing is the key to success, in my opinion. My motto is that if at first you do not succeed, try and try again until you do!


back