Sibonisiwe Nelisiwe Buthelezi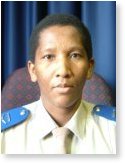 Neli, as she is known, throughout the Department, was born and bred in Zululand area in 1967. She joined the Department of Transport in 1998, when the amalgamation of the KwaZulu and Natal Provincial Government took place. She commenced in the Provincial Motor Transport section in the personnel section. When PMT was restructured later in that year she took the opportunity to commence on a career in traffic policing, she joined the Ulundi Road Traffic Inspectorate as a Provincial Inspector. She received her Traffic Officer's Diploma in 1999. She was then promoted to Principal Provincial Inspector at the Port Shepstone Road Traffic Inspectorate in 2000.
Neli became the first woman traffic officer to be promoted to a rank of an Assistant Director in the history of the Road Traffic Inspectorate serving under the Public Transport Enforcement unit in 2002. She is currently the commander in charge of the investigating team that deals with corruption within public transport and the Department as well as being responsible for ethical standards. She is also currently studying towards a diploma through Rand University on a part-time basis.
In her spare time, Neli says she enjoys studying and watching TV.
As woman in a predominately male work sphere, she has been faced with many challenges.
Her message to other women is:
"Traffic policing profession is the responsibility of everyone. If you are faced with problems as a woman, do not treat them as problems but rather accept them as challenges. We need to realize one issue here- we all traffic officers irrespective of colour or gender."


back