Petro Shone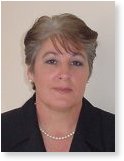 Petro Shone currently holds the rank of Manager: Implementation Support Services at the Department.
I started a challenging career with the Department of Transport on 4 June 1987 as a Senior Administration Clerk at District Superintendent, Dundee where I was responsible for inventory and asset control. I was promoted to the Clerk-in-Charge of the office within a year and placed in control of the administrative components. In March 1991 I was nominated into the post of the Assistant Admin. Officer at Regional Engineer: Dundee. My major job functions were administrative, personnel and financial control. I also acted as the administrative training agent for the entire region and was appointed as the Regional Strike Manager.
As a single parent of a daughter in Grade 12 I decided to re-locate to Head Office, Pietermaritzburg to afford her the opportunity of tertiary education at the University of Natal. In January 1994 I thus transferred to the Real Estate Division where I managed the Disposal of Land Section. I was transferred to the Internal Control and Training Division in April 1995, where I undertook administrative inspections, supported by compliance training. I also investigated allegations/findings of fraudulent activities. My passion for development was acknowledged when I was appointed as the Departmental Adult Basic Education Training Coordinator, instrumental in launching the first literacy and numeracy training programme for previously disadvantaged staff. During the amalgamation of KwaZulu and Natal I was elected as a member of an Expenditure Task Team who successfully cleared expenditure amounting to 139 million Rand reflected in the books of Provincial Motor Transport, Ulundi.
During 1995 I completed my part-time studies towards a National Diploma in Public Management and Administration. Subsequently I have been found competent as a Skills Development Facilitator and a Unit Standard writer and have acquired a diploma in Management Development from Durban-Westville Graduate School of Business.
In December 1996 I was promoted to Senior Administrative Officer: Estimates and Budgets where I monitored expenditure against a 700 million Rand budget and controlled suspense accounts for the Department. During this period I had the privilege to work with one of the most dynamic woman managers of my career, Ms Jenny Gray, who has remained my role model. I was promoted to position of Assistant Director: Internal Control and Training Division in July 1997. This position provided me with the opportunity to apply my management skills as the Division needed re-alignment to Departmental objectives and strategies. One of my major achievements in this Division was the designing and launching of an administrative training programme throughout the Department. My core functions were managing the inspection/investigation programmes and the Pay-roll and Voucher Control components. I also coordinated the Departmental HIV/Aids, ABET, and Human Resources Development programmes.
I was also appointed as the Departmental Skills Development Facilitator and in this capacity drafted the first Workplace Skills Plan. I also served on the Human Resources Development Committee as the chairperson for the Departmental Standard Generating Body for Administration and Finance. Furthermore since 1997 I retained the functions of controlling the departmental suspense accounts, closing the Financial Year books and representing the Department on the Provincial Finance Forum.
In November 2002 I was promoted to my current position of Manager: Implementation Support Services where I manage the Implementation Cost Centre as well as the Regional Assistance Programme component.
In my personal life, I met Terry in 1992 and we were married in 1997. I have two adult children, Tracey and Basil and two adult step-children, Nicky and Mark. I am also the proud step-grandmother of 3 adorable boys.
My personal motto, which I would like to share with all women is:
"If you work hard your efforts will be noticed and the rewards will come to fruition."


back