Thokozile Phumzile Mabaso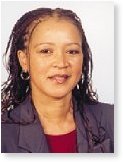 Personal Details
Name: Thokozile Phumzile Mabaso
Marital Status: Single, but have a very special relationship.
Do you have any children: One – a son.
Profile on Career Path
In 1998 I joined the KZN Transport Department as a student intern in the Transportation section. Here was where my career took another exciting turn for the good. Supported by bosses who did not suffer from any "insecurities", it was a great opportunity to learn fast. Transportation, all over the world over is still stereotyped as a male career. I broke that stereotype by completing a KZN Rural Mobility Study (travel patterns) within a year. The KZN Rural Mobility Study was adopted nationally and internationally by the International Forum for Rural Transport and Development. This study continues to be quoted and used extensively in many transportation forums. It also played an immeasurable role in shaping some of the legislations on this sector. In 1999 I became an Assistant Director in Transportation. Within a year (September 2000) I was promoted to Director in Road Safety, where I am to date. It is a very challenging, exciting and a very dynamic environment – "very male dominated too!"
What is your Job Description?
To manage implemented road safety strategies and programmes. To manage budgets attached to individual programmes. Oversee the implementation of programmes. Participate in both national and inter-provincial planning, implementation and monitoring of road safety programmes. Oversee establishment and maintenance of Community and Urban Road Safety Councils. To evaluate road safety strategies and make necessary adjustments to ensure maximum road safety exposure and benefits.
What Challenges do you face in your career?
I have a natural passion to save peoples lives. It was for this reason that I pursued a career in the Department of Transport, of which I am the Director for Road Safety. The greatest challenge facing me personally and it will remain so for as long as there are so many deaths on our roads. Indeed it would be naVve to think road crashes will stop completely. We all know that as long as there are vehicles on the road incidents will occur, but I believe these can and should be minimized – like in western countries. We in South Africa see a lot of people killed on our roads, because road users do not respect other road users or blatantly disregard road safety rules.
What are your goals?
It is my goal in life to save people's lives on our roads. Even one life saved makes a difference.
What motivates you?
I am motivated and inspired by all the opportunities our new democracy has opened for all of us in South Africa. We have the best Constitution in the world – that is motivation enough. What about the doors, which have opened and continue to open for all of us previously disadvantaged or previously ignored citizens? We have all realized that we each have a "ship" parked in our names in the "harbour" of life. The challenge is to swim out to there and take control of it, "sail" out to the open ocean of life. South Africa is now a global player. We cannot afford to sit back and expect things to be done for us. We have to take and face the challenge of doing things for ourselves as individuals, groups and as a nation.
Policing and traffic enforcement took place mainly in "white" areas, so townships and rural areas did not have the advantage of being forced to comply with rules of the road. This led to a situation where drivers did not learn to drive carefully, because there were no legal consequences for unsafe behaviour, aside from the death of members of their own communities. We cannot in the new South Africa accept this situation, and we are working hard to change it, as we move through our transition into a truly democratic society.
How do you balance your family and work life?
I do this in a very structured way. There is a clear distinction between my family life and my work life. I do not mix the two. If I allowed confusion between the two, I would definitely have a major problem. I leave my cap and everything that goes with it at work. Upon arrival at home I assume my position as a mother to my 11 year old son, Abbey and my "husband" Fanyana Shiburi. Gosh am I blessed to have both of them in my life!.
What message do you have for other women?
Use the help of people who surround you, for the fact that you know that the working environment is not always women friendly, make them your support system. Remember that no man is an island. Because we start at a disadvantage – as society sets limits for women – go that extra mile but balance your priorities. Accept that fact that we are biologically different to men, but can basically take on any challenges that they can.
Our struggle against apartheid was a bitter one. Our struggle against gender issues is even more difficult. For those women who have managed to make remarkable strides in various fields, keep on rowing the boat. You are our icons and we are looking up to you.
I also ask you to join hands and fight against road carnage and promote road safety awareness, education, values and norms. Surely this is not too much to ask!
Remember, the hallmark of a good road user is to be careful.


back