Airfreight in KwaZulu-Natal
There are 17 airfields in KwaZulu-Natal and four airports of national importance, namely: Durban International, Pietermaritzburg, Richards Bay, and Margate.

The movement of airfreight in KwaZulu-Natal is mainly confined to operations at the Durban International Airport, located approximately 15 km of the city centre to the south in the Southern Industrial Basin. The airport is accessible from the N2 and M4 freeways as well as the M30 and R102. It is the smallest of the three international airports in South Africa.

Durban International Airport handles approximately 3,6 million travellers per annum. A smaller amount of freight is handled at DIA compared to Cape Town International Airport and O.R. Tambo International Airport. Approximately 6,375 tons of freight is handled annually at DIA, mostly consisting of goods associated with passenger movements. There are two main reasons for the low volume of freight. Firstly, the airport's runway is only 2,439 m long, which is too short for a fully laden large aircraft to take off. To accommodate a fully laden freight aircraft (Boeing 747 or Airbus 380) on take-off and landing, a runway length of 4,2 km and 2,9 km respectively is needed. Secondly, the airport has no dedicated freighter service as there is insufficient air cargo being generated to warrant dedicated services in and out of Durban at present.


In addition to the runway limitation, international airlines prefer to use O.R. Tambo as a single point of entry in South Africa.

The airfreight services are provided by a range of airlines, using the spare capacity in the holds of passenger aircraft on scheduled flights. A substantial volume of the airfreight that eminates from KZN is transported by road to O.R. Tambo and subsequently flown internationally. The air cargo is mainly courier type parcel traffic, with limited consignment of larger amounts.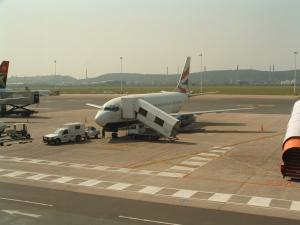 Aircraft at Durban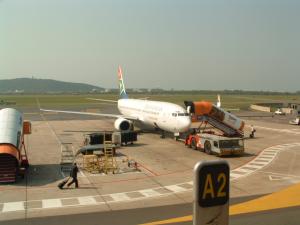 Aircraft at Durban




















The proposed King Shaka International (KSIA) at La Mercy, approximately 30 km north of Durban, will resolve the problems of DIA. This airport will replace DIA, and will feature a single runway which will be 3,700m long which is significantly longer than the 2,439m runway at DIA. The runway can be extended to 4,000m to handle much larger aircraft than DIA.

KSIA will be located close to the N2, M4 and R102 as well the North Coast railway line. A link road between the airport and the N2 is proposed. KSIA will integrate passenger and freight movements without the constraints associated with DIA.

KSIA will form part of the proposed Dube Trade Port. The trade port will include a Trade Zone (this would include a cargo terminal with warehousing and handling facilities for a variety of sectors) and a Cyberport. The airport will be a catalyst for economic development and sustainable job creation.