Golela
The main border post on the KwaZulu-Natal – Swaziland border is Golela (in Swaziland, Lavumisa). The border post consists of a road access point with a customs inspection shed and clearing facilities. It is equipped with offices for customs and immigration officials. The access, via boom-controlled entry points from the South African and Swaziland sides, is a spacious layout with adequate amenities for processing existing traffic.

The border crossing also includes the rail link between Swaziland and South Africa, with extensive shunting and marshalling facilities on the South African side.
Cross Border Traffic
The average number of persons crossing the border in each direction is 700,000 per annum. Road traffic is shown in the table below.

To view the roadfreight tables, click here.

Road freight includes a considerable amount of fuel transported by road from South Africa, as well as Swaziland export traffic comprising of paper, fruit, sugar, and general cargo. The total volume of freight transported per annum is approximately 1.5 million tons to the north and 800,000 tons to the south.

Rail traffic crossing the border amounts to approximately 2.5 million tons per annum, the largest proportion of which is ferro - manganese ore which originates in Phalaborwa and transits the Swaziland railway system via Komatipoort, Mananga and Golela. Rail traffic also includes a large amount of Swaziland export traffic and imports from South Africa.


Border Opening Times
The border is open from 07h00 to 22h00 each day for road traffic. Rail traffic is accommodated 24 hours per day.
Border Facilities
The border post is equipped to handle immigration, police matters, customs and clearance, and there is an agricultural inspectorate on site.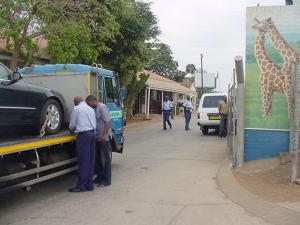 Golela Cross Border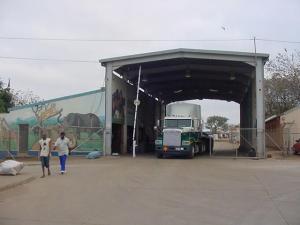 Golela Inspection Shed