Building and Construction Materials
Building and construction materials manufactured in KwaZulu-Natal include paving, kerbs, decor, tubes, pipes and fittings, bricks, blocks, etc. The estimate of the tonnage of different commodities is made difficult by the wide range of products incorporated in this sector. These products include tools, gypsum, paint, glass, wood, particle board, electrical fittings, doors, windows, structural steel, reinforcing steel, plastics, textiles, ready-mixed concrete, sand, stone, and building cement and lime.

The size of the South African construction market in 2004 was estimated at R 100 billion. The main contributors to total income were construction of buildings with R33.1 billion (33,0%), of civil engineering structures with R27.4 billion (27,4%), other building completions with R10.6 billion (10,6%), and other building installations with R8.9 billion (8,9%).

If investment targets are achieved, this sector could double in size over the next decade. The estimated production capacity in South Africa, including its Customs Union partners, was 13.0-13.5 million tons in 2004.

South Africa's cement and building supplies industries have geared up for the expected construction boom, with new projects worth around R4.0 billion announced in 2005 and further projects in 2006-2007.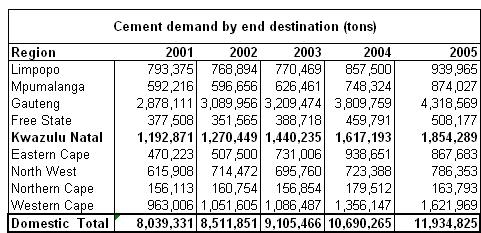 Cement
In 2005, the demand for cement was estimated at 11,9 million tons of which KwaZulu-Natal was responsible for 1,8 million tons. All South Africa's major cement producers have begun importing to meet increasing demand as a result of the wide range of capital projects scheduled for completion before 2010. These include 5 major new stadiums and 5 stadium upgrades along with other projects. Cement sales for March 2007 increased to 1,374 million tons from 1,18 million tons for the same period in 2006. Based on these statistics, it can be estimated that cement sales for 2007 could be approximately 16 million tons.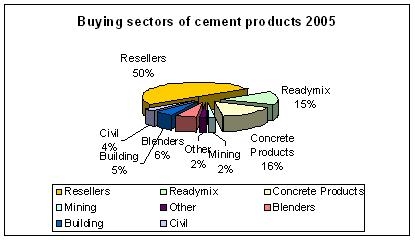 The proportion of cement sales by sector is shown in the above graph for 2005. South Africa's 4 cement companies together operate 11 cement factories that have been continuously expanded to meet the local demand over the last 50 years. The main cement plants in KwaZulu-Natal are at Durban (Coedmore area) and Newcastle with current capacity of about 1 million tons per year.

Announcements of capacity expansion totalling 3,3 million tons p.a. (including refurbished capacity) at the various factories will raise the total South African industry capacity to about 16,5 million tons per annum. The demand forecasts indicate that this capacity will be sufficient to satisfy expected growth to the end of 2012. In 2006/2007, the import of cement and clinker through South African ports was estimated at 891,012 tons.

The total market share of ready-mixed concrete has grown from 13,9% to 15,5% in 2005 (based on cement sales),which is 20% growth for two consecutive years.

There are numbers of manufacturers of precast concrete products in the province, all of which use only road transport for their products.
Stone
Aggregate is produced in or near most cities and towns in South Africa. Crushed stone, sand and gravel are most often used by the construction industry. Industrial sand and gravels are used for purposes such as foundry operations, glass manufacturing, abrasives and filtration beds of water-treatment facilities, as a source of calcium in fertilisers, as a metallurgic fluxstone, and as filtration systems.

Aggregates make up 70% or 80% of the volume of concrete, and the aggregates used in asphalt mixtures (roadways – hot-mix asphalt, cold-mix asphalt, surface treatments) comprise approximately 95% of the mix mass.

Aggregates include crushed stone, sand and gravel, and are the most abundant natural resource available. They are used as a primary raw material component in construction, agriculture and other chemical and metallurgic industries. The domestic availability of aggregate and sand, which is ultimately linked to cement sales, is expected to increase from 114.1 million tons in 2007 to 120.2 million tons in 2010, representing an annual average growth rate of 1.75% and to continue with the growth trend to 134.2 million tons by 2016, an annual average increase of 3.16% between 2012 and 2016.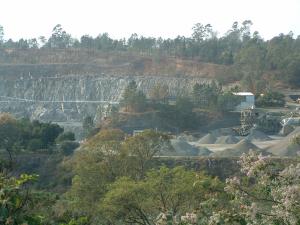 Dolerite Quarry
Steel
Steel used in the building, construction and mining sectors accounts for about 25% of local consumption. It is comprised primarily of prefabricated profiles and sections used in industrial building systems, civil structures and concrete reinforcing bar. Global carbon steel consumption reached a milestone of over one billion tons in 2005, driven by extraordinary growth, primarily in China. South Africa accounts for about 0,5% of global steel consumption. Both globally and locally the steel market is subject to business cycles linked to economic growth patterns and steel price trends.

Per capita steel consumption in South Africa is roughly half the world average (90 kg vs 170 kg). South African per capita consumption is similar to countries such as Brazil (100 kg) and Egypt (75 kg), and substantially above India (30 kg). Consumption of primary carbon steel products has been fluctuating at levels of between 4 - 4,5 million tons annually. In 2006/2007 the port of Richards Bay exported 298,456 tons of steel, and Durban 1,287,356 tons.

Local sales of primary carbon steel products in South Africa in 2006 was an estimated 5,3 million tons. The range of primary carbon steel products and semi-finished products manufactured in South Africa includes: billets; blooms; slabs; forgings; light, medium and heavy sections and bars; reinforcing bar; railway track material; wire rod; seamless tubes; plates; hot- and cold-rolled coils and sheets; electrolytic galvanised coils and sheets; tinplate; and pre-painted coils and sheets.
Bricks
The combined annual manufacturing capacity of the SA clay brick industry is estimated to be in excess of 3,5 billion bricks. It is estimated that 75% of all bricks used for buildings are genuine clay bricks.

Bricks are made in a number of different places in KZN including Durban, Pietermaritzburg, Newcastle and Empangeni-Richards Bay.
Paints
There are several large paint factories in the Durban area, supplying more than 50,000 tons of products per annum by road to the building trade all over South Africa. Inputs include titanium, resins, solvents and other pigments.
Building Materials
There are numbers of firms supplying building materials in KZN that are branches of manufacturers in Gauteng, and receive all their products for local distribution on road .These include pipes, roofing, guttering, beams, ceiling board, fascia boards, roof tiles, doors, windows, panelling, plastic pipe, brass plumbing fittings and glass.
Transport of Building Products
The vehicle configuration used for the transportation of various building supplies ranges from rigids (8 ton) to articulated combinations, some with draw-bar trailers and interlinks. The vehicle type and size vary with the commodity and the distance that it is to be transported, as well as the method of load handling and the access to the load and unload points.

The vehicle types used for building and construction materials range from ready-mixed concrete mixers to flatdecks, flatdecks with dropsides, tippers, etc.

For bricks the trend has been towards palletised and shrink- wrapped modular loads that can be loaded and unloaded by on-board crane.

The bulk of the finished cement products is distributed through the retail trade (resellers), and is ultimately used by small to medium-sized builders, emerging contractors and DIY users.