Forestry
Commercial plantation forestry in South Africa encompasses large planted forests established to supply raw materials to satisfy mining, construction and industrial markets. The forests supply pulp mills, sawmills and factories which process the raw materials. Wood is a key raw material to which value is added in many industries such as: mining; construction of houses and commercial buildings; poles for electricity distribution and telecommunications; furniture manufacture; pulp and paper manufacture; and energy production.
Location
The timber growing areas in KwaZulu-Natal are divided into 5 main afforestation regions which are identified as Northern Natal, Midlands, Southern Natal, Zululand, and Maputaland.
Species
The main species planted in South Africa are pine (52,2%) eucalyptus (38,92%) and wattle (8,3%). All of these are grown in KZN. The dominant form of timber produced is roundwood that is used for chipping for export. Mainly hardwood species are used for this purpose.


Maturing Pine
The regions with the largest hardwood areas are the provinces of KwaZulu-Natal (Midlands) and Mpumalanga South where 49.2% of all hardwoods occur. The dominant species is eucalyptus grandis which accounts for 51.8% of the total hardwood area. South African hardwoods are grown primarily for pulpwood and mining timber production on an eight to twelve year rotation. Pulpwood is the raw material for newsprint and kraft paper production.

Softwoods consist mainly of pine species; about 69% of all softwoods are for sawlog production.

KwaZulu-Natal accounted for 356,355 hectares of hardwood and 183,554 hectares softwood in 2005.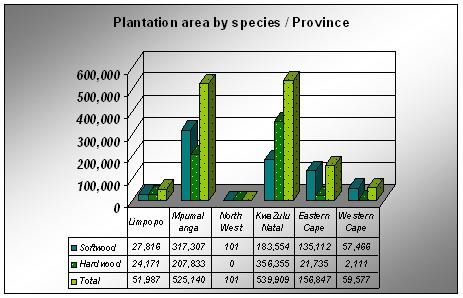 Mature pine, which is becoming increasingly scarce, is usually reserved for saw-milling due to the high value of the product (approximately R 500,000 per hectare). It is noteworthy that the tonnage of sawn timber imported is rising each year due to the shortage of local supply, and it is predicted that South Africa will be almost totally dependent on imports for most sawn timber within the next ten years.
Extent
The forestry industry in KwaZulu-Natal covers about 740,000 hectares (8.2% of the total area of the province) with 560,000 hectares already planted and a further 190,000 hectares of land owned by forestry organisations unplanted.

A comparison, by province, of the 2004/05 plantation area is given in the table below.
The reduction in the area under forests is a matter for concern as the future demand for timber will be increasingly under-supplied.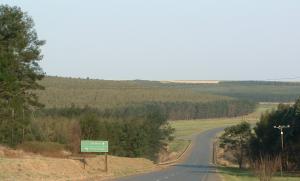 Forestry Midlands
Value
The GGP of KZN amounts to about R 57 billion of which forestry contributes approximately R6.0 billion (10.7%) through forest products and a further 1.5% through forestry .

The forestry industry has a capital investment in KwaZulu- Natal of R14 billion of which R10 billion is in timber processing and R4 billion in plantations.

The industry is one of the province's largest employers, absorbing about 43 000 people of the total 2.8 million labour force. The industry pays R662 million per annum to staff, and it is estimated that 250 000 people in the province are in some way dependent on the industry .

If timber processing were to be added to the above figures, the total impact on employment in the province could be doubled.

There are currently 10 000 small growers in KZN with an area of 14 000 hectares under timber and a current investment of R30 million from which they earn R24 million per annum. The small grower population is being encouraged through schemes such as Forests Project ,Grow, Forests Khulanathi Scheme and the SA Wattle Growers' Union scheme, which are adding about 2000 new small growers and 3000 hectares each year .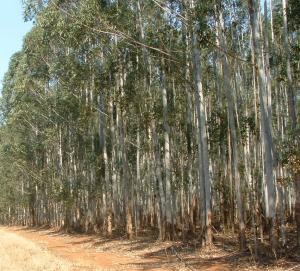 Eucalyptus Plantation
From the national perspective the KZN timber industry is of great importance as 38% of all plantations and 45% of all new afforestation are in KZN . Nationally, 40% of total plantation output comes from KZN, the wattle industry is focused in KZN, and 56% of all pulpwood is produced in the province.

The total roundwood intake during the year 2004/05 was 23 929 382 m³ compared to 22 553 020 m³ in 2003/04. The value of sales of timber products equalled R15 025 million in 2004/05 compared to R14 815 million for 2003/04.
In 2005, KwaZulu-Natal produced 7,7 million m³ of hardwood and 2,6 million m³ of softwood.
Synergy
In addition to the timber and forestry interests, there are also exporters of wattle extract and charcoal from the Kranskop-Sevenoaks areas which are users of rail and road for container transport to the port of Durban.
Relative importance
55% of all timber used in South Africa is processed in KZN and, of the 13 pulp, paper and board processing plants in South Africa, 10 are located in KZN. Other industries that are significant in KZN due to the presence of the forestry industry are:


* 2nd largest pulp and paper mill in SA (Richards Bay)
* 2nd largest newsprint mill in SA(Durban)
* world's largest producer of rayon pulp (Umkomaas)
* largest hardboard plant in SA (Estcourt)
* the only 2 SA woodchip export plants (Richards Bay)
* the 2 largest SA producers of wattle extract (Hermannsburg and Dalton)
* the 2 largest SA producers of charcoal for export and local consumption (Dalton-Greytown).


Import-Export Volumes
The KZN forestry industry is a major source of road and rail freight as well as contributing a significant export tonnage through the ports of KwaZulu-Natal.
Eucalyptus timber and wattle are exported in the form of woodchips. Wattle timber is used for the manufacture of pulp. Other important activities are the production of charcoal and firewood. There are only four woodchip export facilities in South Africa, three of which are situated in Richards Bay and one at the port of Durban. According to the National Port Authority export statistics for 2006/07, 3,728,948 tons of woodchips, 37,641 tons of woodpulp and 83,281 tons of paper-related products were exported through the port of Richards Bay.

The woodchipping mill facility located at Maydon Wharf in the Port of Durban has a capacity of 360,000 air dry tons of hardwood chips per annum. This woodchip facility is aimed at the export of eucalyptus hardwood chips from Durban to pulp and paper manufacturers in Japan. The mill consists of a totally enclosed woodchip storage shed that holds 244,000 cubic metres or 80,000 tons of woodchips. It also features two log decks and two-22 metre, 60-ton weighbridges for road vehicles and a 100-ton rail weighbridge. The debarked 2,4 m logs arrive at the plant via rail and truck where they are fed into an imported Camura-Metso chipper. A conveyor belt moves the woodchips to the storage shed with a capacity of 80,000 tons. The woodchips are conveyed to a ship loader fitted with a jet- slinger that evenly sprays the chips into the hold. It takes about four days to load a ship.

In 2006/07 226,716 tons of woodpulp and 395,900 tons of woodchips were exported through the port of Durban, and in the first 8 months of 2007 the Durban terminal exported one million tons of wood chips to Japan.

It should be noted that 68,921 tons of woodpulp were also imported through Durban in the same year. The bulk of the timber which comes into South Africa is breakbulk sawn timber, and 68,921 tons were imported through Durban harbour in 2006.

The volume transported on the land modes (road and rail) to processing plants and exported through the ports is estimated at approximately 10 million tons per annum in the form of timber and timber-related products, paper, woodchips, etc.

Approximately 1,4 million tons of timber are transported via rail on the KZN branch lines and onto the main lines. Approximately 108,045 tons of timber are also railed from Swaziland to Richards Bay on the Durban-Empangeni-Golela and Swaziland line.

The largest proportion of timber is transported by road to various processing plants, mills and for export. The vehicles used are flatdecks with steel stakes or purpose-designed, stake-sided trailers with the vehicle configurations of all groups from 5-40 ton carrying capacity.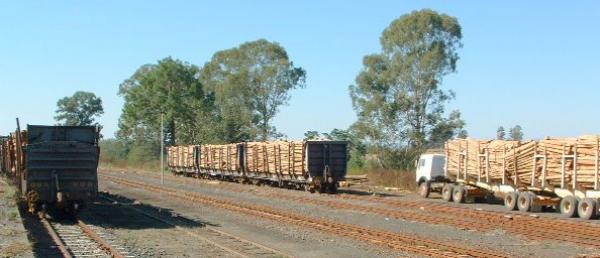 Timber on Rail