Livestock Production
KwaZulu-Natal is one of the main livestock farming areas in South Africa with extensive herds of beef and dairy cattle, flocks of wool and mutton sheep, and numbers of large piggeries. Goats are largely confined to communal farming areas and do not form a major part of formal commercial livestock production in the province, although their numbers are increasing.

The province has a total of 6,5 million hectares of land for farming purposes of which 82 percent is suitable for extensive livestock production and 18 percent is arable land.

The relative proportions of livestock distribution in South Africa are shown in the table below.


Cattle
The Highveld and Midlands areas of KwaZulu-Natal are the main beef production areas , with dairy cattle being more prevalent in the Midlands and southern KZN. Of the total number of 13.9 million cattle in the RSA in 2005, 2,8 million (20%) were in KwaZulu-Natal. The numbers of cattle increased from 2004 to 2005 by 155,000 animals.

There is a growing trend to finishing beef cattle in feedlots, and it is reported that about 60% of cattle in South Africa are now finished for slaughter in feedlots that maximise the potential of the animals by feeding grain and supplements to achieve best potential weights and grades.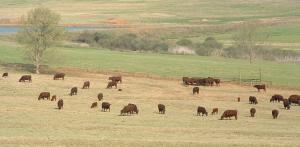 Beef cattle Midlands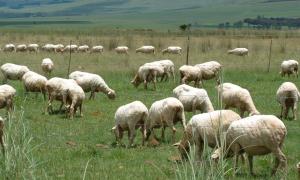 Sheep Grazing
Sheep
Of the total number of 25.3 million sheep in South Africa in 2005 the KwaZulu-Natal total was estimated to be 775 000 [3%]. Sheep farming is concentrated in the drier areas of the province along the Drakensberg, Vryheid and Southern Natal.

A major deterrent to sheep production in KZN in recent years has been the very high level of stock losses due to 'theft'.


Pigs
The pig population of KwaZulu-Natal was estimated to be 164,000 in 2005, with Estcourt, Mooi River and Dalton being areas with concentrations of piggeries.
Goats
Goat numbers at the end of November 2005 are estimated for KwaZulu-Natal at 938,000 (14,5%), which represents the third highest goat population in South Africa.

Meat processing is described in a separate section of this databank under the heading Meat Processing and Distribution, and Poultry in a seperate section.
Transport of Livestock
For transport of livestock of all kinds, road transport is the only available mode as the railways have withdrawn services for animals. Road transport also reduces the stress on transported stock by reducing journey times and thereby avoiding the problems caused by reduced water intake and periods with no feeding, which is unavoidable when animals are in transit.

For large-scale movements of animals rail transport should be cheaper than road transport, and is possible for all forms of livestock. The limitation of rail transport is that the consignor has to pay for the full use of the truck, whether it is full or empty. It is also necessary to plan the movements of animals well ahead of time in order to request the required number of rail trucks. The transportation of live cattle is governed by transportation welfare codes, known as LWCC, and according to the railways, trucks containing livestock are carefully monitored and taken to their destination as quickly as possible, but in fact delays do occur leading to weight loss, stress and mortality. For this reason generally, rail transport is not regarded as suitable for moving animals to abattoirs.