Waste Disposal
According to the report of the Department of Water Affairs and Forestry, over 42 million cubic metres of general waste is generated every year across the country, with the largest proportion coming from Gauteng (42%) (DWAF1997). KZN is the third largest generator of waste among the provinces with 9.9% of the national total.

In addition, more than 5 million cubic metres of hazardous waste are produced every year, mostly in Mpumalanga and KwaZulu-Natal (due to the concentration of mining activities and fertiliser production in these provinces).

The average amount of waste generated per person per day in South Africa is 0.7 kg. The figure for KwaZulu-Natal is 0.5 kg, which is much lower than the average produced in developed countries (7.3 kg in the UK and 0.87 kg in Singapore), but higher than the average in some poorer countries such as 0.3 kg in Nepal (DWAF 1997).

Total general waste from households, commerce, institutions, and the manufacturing industry was approximately 13.5-15.0 million tons per year in 1998, which must have increased to more than 20 million tons over the last 14 years due to rising population and economic growth.

In addition, a further 22 million tons per year of industrial wastes are generated, handled, and disposed of in-house (on-site). Nationwide, about 8.8 million tons of domestic waste required collection and disposal in the financial year 2004/2005. During the six years from 2004 to 2010, domestic waste is predicted to rise by 1.1 million tons to some 10 million tons or more.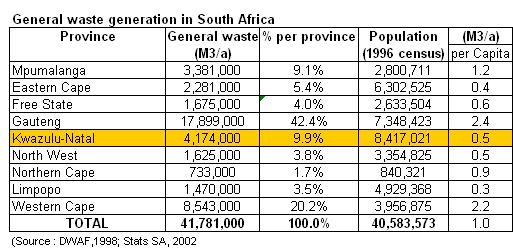 Solid Waste Collection and Disposal
In KZN the normal method of disposal of solid waste is by burying them in sanitary landfills, often called dumps, which are tracts of land used to dispose of waste materials. It is believed that the escape of harmful gases from landfills into the atmosphere contributes to the pollution of the environment, and to global warming.

Local authorities are mandated to collect, handle and dispose of domestic waste from all households, and to ensure an equitable service to their communities. General landfill sites accept domestic, commercial and industrial non-hazardous, building and garden waste. These sites are more often owned and operated by the local authority. Because many of these landfills do not have records of incoming waste, due to the lack of funds and capacity, up-to-date information is not readily available.
eThekwini (Durban)
The eThekwini municipality has access to three landfill sites.

1. La Mercy, located at 35 km north of Durban.
2. Bisasar Road some 7 km from the Durban CBD (Central Business District).
3. Mariannhill located 20 km to the west of the CBD.

The Mariannhill landfill, which has a 4,4 million cubic metre capacity, has been in operation since 1997 and receives about 850 tons of solid waste a day. The lifespan of this landfill site is estimated to be until 2024. The landfill also has a full treatment plant for leachate (the liquid that oozes from waste when mixed with water or other liquids). There is also a pilot recycling facility on site that recycles various materials.
uMhlatuze (Empangeni – Richards Bay)
With regard to the Empangeni-Richards Bay area, there are landfill sites close to Empangeni Rail. This site (located on State Land), licensed by the Department of Water Affairs, is currently reaching maximum capacity. The Richards Bay landfill site is situated close to Alton near the old sewage works, and is exceeding capacity. The solid waste disposal sites in Empangeni and Richards Bay are, however, reaching capacity, and a regional landfill site near Empangeni is being investigated.

A regional site for the City of uMhlathuze was identified adjacent to the Empangeni landfill site. The site will be operated as a public/private partnership with the District Municipality. The existing waste disposal facilities in uMhlathuze Municipal area do not meet the industrial waste disposal needs of these areas. Such a site should have the capacity to accommodate a total waste stream of 583 530 tons by the year 2018.
The arrangements recorded for the above cities are also typical of the many municipalities around the province which have established landfills for disposal of solid and liquid wastes. Most of the cities and towns such as Pietermaritzburg, Newcastle, Ladysmith, Stanger, Port Shepstone and Howick have designated landfills, and control the collection and disposal of wastes to the best of the council's abilities and resource allocations. Smaller towns have very often to employ contractors to transport wastes to regional sites managed by larger cities.
According to the baseline studies published in 1998, however, there could be up to 15 000 unrecorded communal sites in the rural areas. Many illegal waste disposal sites have developed over the years due to a number of reasons such as the lack of collection services, long transport distances to formal disposal sites, the refusal by the public or industry to pay landfill fees, excessive bureaucracy and costs in waste disposal services, indifference or disbelief in the published environmental consequences of poor waste handling and disposal, and the lack of waste education and awareness.

Information on the volumes of waste re-used, reduced and recycled is not readily available in South Africa due to current lack of provincial and national waste information systems.

The transport of solid waste is a significant road transport undertaking within the province with more than 4 million cubic metres (about 1.5 million tons) being transported per year and increasing steadily with urbanisation, increased regulation and increasing dependence on the urban and local authorities to dispose of waste in the prescribed manner.