Wholesalers and Retailers
The wholesale and retail trade in KwaZulu-Natal is dominated by a small number of major chains. The major wholesalers have a network of retail outlets which are supplied from central warehouses that are located mainly in the greater Durban area. These distribution centres receive all the products from suppliers, and then pick the whole range of requirements into loads for each store and deliver daily all over the province.

The trend in South Africa towards the establishment of shopping malls with a range of stores handling specialties, anchored by major supermarket chains, has meant that the vast majority of shoppers buy their staple grocery and domestic requirements from the major chains. The major chain stores in KwaZulu-Natal move in excess of 2.0 million tons per annum of FMCG (Fast Moving Consumer Goods) products, perishables and foodstuffs and household furnishings, clothing, home and garden tools and appliances.

This tendency towards centralisation of purchasing and supply functions, has had seriously negative effects on small retail businesses such as bakeries, greengrocers, butchers and grocery stores in most country towns, which cannot compete with the costs of the major chains. The delivery of a whole range of goods to the branches of the chain stores has been made cost-effective by the increase in vehicle sizes and carrying capacity that have been permitted in South Africa over the past 15 years.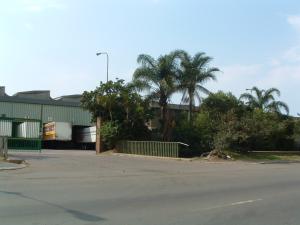 Centralised Distribution Warehouse
In addition to the distribution centres of the major chains, third party distribution and logistics companies offer complete supply-chain management solutions for manufacturers, which are cost-effective in reaching the retail outlets scattered throughout the province. The increase in the number of integrated distribution management companies is largely the result of the difficulty experienced by manufacturers in coordinating deliveries to wholesalers and retailers, due to extensive delays experienced at those premises as the result of inadequate provision of unloading facilities.

The congestion at unloading and delivery docks has been an ongoing problem for many years, and is currently being exacerbated by the proliferation of large retail outlets, most of which have inadequate intake facilities for the throughput of the businesses.
Transport of FMCG
The inbound delivery of FMCG products to the wholesalers' and retailers' warehouses are normally done by the manufacturer, suppliers, or contracted hauliers with large vehicles. The distribution of the output from the warehouses is generally performed with 4, 5 or 6 axle combinations and rigid trucks for the short-haul, multi- drop deliveries.

Most of the major chains have cold stores, and handle their own refrigerated deliveries to branches, or use contracted specialist cold chain transport companies.