Port of Durban
The port of Durban is situated on the east coast of South Africa, some 680 nautical miles northwest of Cape Agulhas, and 625 nautical miles south-south-west of the port of Maputo. The GPS location is S 29.8689 and E 31.0617.

The port occupies the natural expanse of Durban Bay - an area of 1850ha, with the water area being 892ha in extent at high tide and 679ha at low. The emerging Point waterfront development and central business district are to the north and northeast, Maydon Wharf to the west, the Bayhead ship repair area to the south, and the Bluff Peninsula to the southeast.

The entrance channel is 122 metres wide and is maintained at a dredged 12,8 metres draught (depth of water).

The entrance channel is protected by two breakwaters: the northern is 335 metres and the southern 700 metres long. Anchorages are allocated for vessels waiting to enter port, about 1000 metres offshore to the north of the mouth of the Umgeni River.


Port Limitations:
The port of Durban operates 24 hours a day 365 days a year. During daylight ships are supposedly restricted to 243.8m length with a maximum width of 35m and a draught of 11.9m, or 12.2m according to tide and harbour master's clearance. Larger vessels are common, and ships up to 300m lengths and 37m beams are regular callers in Durban. Night restrictions are for a ship length of 200m, a beam of 26m, and maximum draught of 11.6m. The harbour master has to be consulted for permission if larger vessels are to enter port.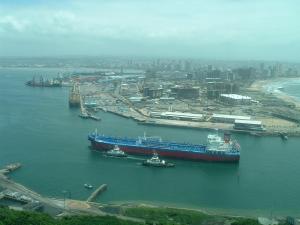 Ship entering Port of Durban
The largest ships to have entered Durban harbour were in the region of 230,000 dwt, but even larger vessels are catered for in the outer anchorage. On two occasions in recent years the largest vessel afloat - the 564,650-dwt ULCC tanker Jahre Viking which has a length of 458m and a beam of 69m -underwent repairs or survey while at anchor off Durban.

Pilotage is compulsory for all vessels from a point three n.miles northeast of the port entrance, with a helicopter performing most pilot transfers, backed up by pilot boat when the helicopter is unavailable. Navigation (including all shipping movements inside port limits) is subject to VTS (vessels tracking service system) controlled from the Millennium Tower on the Bluff. Tug assistance is required. Draught within the port varies according to location.

Through the Ports Master Plan (PMP), the Transnet National Ports Authority (NPA) has identified several new projects for the port of Durban. This includes the widening and deepening of the Durban harbour mouth to enable safer access and access to larger ships at a cost of R1,7- billion. The width of the channel will be increased to 220 m at its narrowest point, flaring into 300 m beyond the south breakwater. The depth will vary from 19 m in the outer channel to 18 m in the inner channel, and 16 m in the inner port channels and basins. Work on this project is expected to be completed by the end of 2009.

In order to do this the base of the breakwaters has to be excavated and repacked, and the main sewage outfall for Durban has to be rebuilt at the required depth.

In the redevelopment of the port of Durban, the north shore of the harbour and the adjacent land (including the Point, Yacht Basin and Embankment areas) will continue to be reserved for leisure and tourism developments.
Documentation
Documents required on arrival:- Crew Lists, Passenger Lists (if applicable), Stowaway Lists (if applicable), completed Customs Form (DA5), Crew Declaration of Personal Effects, Narcotics List, Firearm List (if applicable), Vaccination List, Maritime Declaration of Health, valid De-Rat Certificate, valid Loadline Certificates, Safety Radio Certificate, Safety Equipment Certificate and ISM Certificates.
Marine Craft:
The port operates a fleet of tugs owned and operated by the Transnet National Ports Authority (TNPA). Six of these are Schottel-type with bollard pull between 34t and 41t - Umzumbe (ex Otto Buhr), Umsunduzi (ex Dupel Erasmus), Umvoti (ex Bertie Groenewald), Nonoti (ex Jannie Oelofsen), Inyalazi (ex Piet Aucamp), and Umhlali (ex Bart Grove). Later-type tugs of a new series of Voith Schneider 49t bollard pull, and built at SA Shipyards in Durban, began to be introduced from 2001. The two stationed at Durban are named uThukela and Mkhuze.
Each tug is maintained to SAMSA class 8 standard, and is equipped for fire fighting and salvage. The fleet handles in excess of 800 ship movements each month, and four tugs are usually on duty during daylight hours and two at night. The port also employs one work boat/tug of the Tern class, Royal Tern, which has a bollard pull of 18.7 tons. An Agusta A109 K2 'HPS' twin-engine 8-seat helicopter, operated by Balmoral Maintenance Services, provides pilotage services. A diesel-powered pilot boat named Tsitsikama operates when the helicopter service is unavailable.

Dredging is performed by Transnet National Ports Authority on an ongoing basis in the port and immediately outside the entrance. The reason for this is to counter the littoral drift that would otherwise recreate the infamous Bar across the entrance channel. The major work is conducted by a trailing suction hopper dredger named Piper (ex RE Jones), with the dredged sand deposited into a reclamation point on the northern breakwater, from where it is dispersed by the municipality along Durban's northern beaches. Piper loads 2,500 cubic metres at a time.

Other dredgers include the bed leveller named Impisi (ex LL Varley), which operates by dragging a plough across the seabed to move accumulated silt against the wharfside into the adjacent channel. The channels are kept clear with the grab dredger, Crane (ex JF Craig), which uses a grab attached to a crane on the vessel. Crane and Piper also operate at East London and Port Elizabeth.Hydrographic survey vessels used at the Port of Durban are the Ingwegwe and the Swift.

Durban has two floating cranes. Indlovu has a lifting capacity of 235 tons at 10m and 125 tons from 24m. The smaller Imvubu is privately owned and has a lifting capacity of 60 tons at 6.1m or 40.6 tons at 16.2m from the outboard edge. The port employs a number of launches and cargo punts, including a 100+ passenger harbour boat named Isiponono which is used for trade and business tours of the port. A pollution boat named Udonti also serves the port. Several private companies provide commercial diving services, and the port also maintains a fully equipped diving team.

The NSRI, which has moved into a modern station base at the Point, operates several deep-sea and smaller rescue craft.
Port Facilities:
The port of Durban operates on a common user basis and consists of five business units managed by Transnet Port Terminals - Durban Container Terminal (Africa's busiest), Pier 1 Container Terminal, Multi-Purpose Terminal (also known as the City Terminal), Durban Car Terminal (three berths), and Maydon Wharf Terminal.

Container Terminal
Almost all containers are handled at DCT which is the largest of its kind in the southern hemisphere. Containers handled at the terminal currently represent more than 60% of the total number handled at all South African ports. DCT serves as a pivotal hub for the entire Southern African region, serving trade links to the Far East, Middle East, Australasia, South America, North America and Europe. It also serves as a transhipment hub for East Africa and Indian Ocean islands.

• The terminal has 2,128m of quayside divided into seven berths, in addition to the use of three berths on Pier 1 (part of the existing MPT). DCT has more than 13,000 ground slots and 600 reefer points, and handles an average of 50 000 TEUs per month. A rail terminal receives and dispatches containers to Johannesburg and other destinations as far afield as Zambia. DCT is also expanding its capacity from 1,9 million TEUs to 2,9 million TEUs per annum by 2009.


 A Ro-Ro terminal, mainly serving the coastal trade, is attached to the main container complex. A shed is available with an undercover storage area of 8 380 square metres.

 Total area (including Container Depot) 102.00 ha
Actual container/Ro-Ro stacking area 26.33 ha


Multi-Purpose Terminal
The new MPT facilities at the Point incorporates a modern intermodal cargo exchange terminal, a bonded storage facility, and expanded cargo and container stacking areas covering about 20 hectares.

The multi-purpose terminal, which handles break-bulk, bulk and containerised cargoes, has become this port's largest general cargo-handling facility. It operates across 14 berths at Pier 1, the Point and on the T-Jetty, and handles both import and export breakbulk cargo. Pier 1 has implemented container cranes and new container handling systems (RTGs) to increase capacity to 700,000 TEUs per annum by December 2007. Products handled at Durban MPT include steel, ferro-alloys, granite, rice, fruit and containers.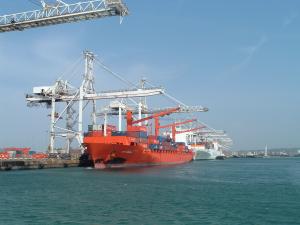 Durban Container Terminal
Durban Car Terminal
The Durban Car Terminal - the country's largest import and export facility for the motor industry - handled 386,062 motor units during the fiscal year 2005/06 (278,000 for 2005/06 and 214,000 for 2004/05). In 2006, 389681 units were handled in the terminal, which represents a 41% on the previous year's volume. In 2007 this is expected to grow by 18%.

The Maydon Wharf MPT
This terminal operates across a number of berths at Maydon Wharf, principally between berths 8 to 13, and handles a variety of commodities, focusing on niche cargo including neo-bulks (salt, fertilisers and other mineral products, steel, scrap metal and forest products).

The port has a well-equipped passenger terminal at N- berth on the T-Jetty for the convenience of cruise ships, which operate mostly between November and May. From the summer of 2007 MSC and Starlight will maintain a cruise ship for all-summer cruising at Durban, operating to Indian Ocean island destinations. Cruise ships make use of one or more berths as required and, at times, the port can have as many as three cruise ships in port together. An attractive Harbour Expo Market is mounted in the airconditioned N-Shed while cruise ships are in port. Long- term plans foresee a new cruise terminal being built at A berth on the Point, near the Point Waterfront.
Port Terminal Capacity and Throughput
Privately Owned Bulk-Storage and Handling Facilities
GROUND STORAGE FACILITIES
Concrete storage bins of 18 290 ton capacity are located at Causeway Road.
Greystones Enterprises
Container Freight Station, New Pier. This facility performs all functions of container stuffing and de- stuffing with bulk or unitised cargoes. Unitising of cargoes, including bagging and palletising, are also available. Facility is serviced with both road and rail siding accesses.
Berths and Layout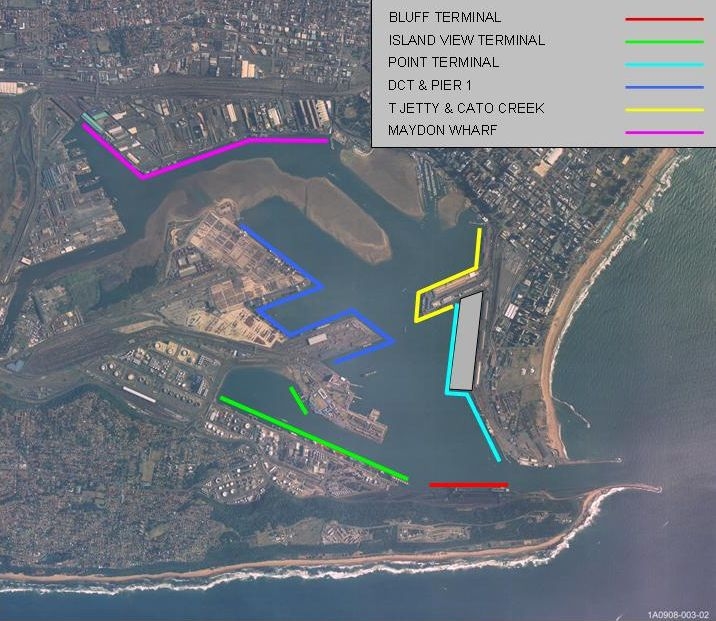 Aerial view of Durban Port
The port has two floating docks - one operated by the TNPA with an overall length of 109m, a width of 23.34m and a displaced lifting capacity of 4,500 tons, serviced by two 5-ton capacity cranes. The second floating dock, known as Eldock, is the only privately owned one in South Africa. Eldock has a length of 155m, a width of 23.5m, and a lifting capacity of 8,500 tons. Bayhead has two general repair quays in addition to several privately operated and fully equipped repair quays.

Bunkers: The port offers bunker facilities as follows: Fuel and gas oil at Island View, New Pier 1 and Pier 2 (container terminal) berths. Gas oil at Island View berths 4,5,6,7 and 8. Two bunkering companies - Smit Amandla and KZN Bunkering - provide bunker barging services, but no bunkers are served outside the port.

There is an anchorage outside the port for vessels waiting for berthing or for orders.
Yachting Marinas
Durban has three marinas for yachting purposes - the main marina opposite the Esplanade (served by the Point Yacht Club and Royal Natal Yacht Club), the Wilson's Wharf marina (used predominantly by motor craft), and the Bluff Yacht Club facility in the Silt Canal near Bayhead. A new marina is envisaged for the area immediately outside the harbour entrance but remains subject to an environmental impact assessment and other regulatory matters.

The port and city authorities also propose a combined marina development in the area between Wilson's Wharf and the Tug Basin (Bat Centre), which would be developed as a waterfront. A large number of other recreational activities take place in Durban Bay, including rowing, canoeing and kayaking, parasailing, fishing from boats, and bird watching at the Heritage Site (mangrove swamps).
Port Volumes
The port of Durban handles the largest volume of sea-going traffic of any port in southern Africa. For the 2006/07 financial year ended 31 March 2007, the Port of Durban handled a total of 4,545 sea-going ships with a gross tonnage of 97,453,430, or about 32 percent of the ships calling at all South African ports.
Details of Total Cargo Handled in 2006/2007.
Cargo handled during the fiscal year 2006/2007 amounted to 41,483,950 tons, which included oil and petroleum products but excluded containers, which are calculated by the port authority in TEUs only and not by mass. A total of 2,335 million TEUs were handled in Durban during 2006/2007, and may be calculated as the equivalent of 26,406,000 tons (av 13.5 tons) which should be included with the gross figure above, giving the port a total volume of 73,006 million tons of cargo handled.

Total volumes handled by the port (including the calculation for containers) constituted 43,231,702 tons of imports, 22,397,568 tons of exports and 7,377,166 tons of transhipment cargo, giving a total of 73,074,436 tons.

Bulk cargo handled at the port in 2006/2007 was 33,719,039 tons, of which imports were 26,913,731 tons, exports 6,678,956 tons, and transhipments 126,352 tons.

Breakbulk cargo totalled 7,764,911 tons, of which imports were 4,355,419 tons, exports 3,173,400 tons, and transhipments 236,092 tons.

Details of Container Movements in 2006/2007.
The combined Durban container terminals handled 2,334,999 TEUs (twenty foot equivalents) during 2006/2007, of which imports were 865,087, exports were 899,454 and 519,609 were transhipped. A total of 50,849 TEUs were shipped coastwise. Containers handled at Durban represented 65% of the total number of containers at South African ports.