Port of Richards Bay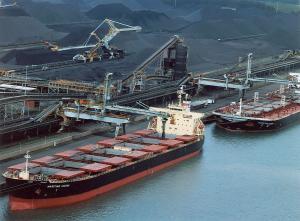 Loading of coal at Richards Bay
Introduction
A number of factors contributed to the development of Port of Richards Bay in the 1970s. It had become urgent to provide additional rail links between the coast and the mining heartland of the country. It was also necessary to provide a deepwater port to accommodate the new large bulk carriers. From three possible sites for a new harbour, the choice fell on Richards Bay for five important reasons: the large lagoon; the ease of dredging; direct link with the national rail network; an adjacent town, Empangeni, to stimulate initial development; and ample fresh water.

In May 1972, parliament authorised the construction of the harbour in Richards Bay, and on 1 April 1976 the first phase of the harbour was officially opened. Built for the export of coal, it has since expanded into other bulk and breakbulk cargoes. Richards Bay is South Africa's premier bulk port and the most modern. In 2005 the port handled 89 million tons of cargo. Richards Bay handles in excess of 80 million tons annually, representing 55% of South Africa's seaborne cargo. This makes it the country's largest port in terms of volumes handled.

Richards Bay serves the coalfields of KwaZulu-Natal and Mpumalanga as well as timber and granite exporters from as far away as the Eastern Cape and Northern Cape. The port is now handling an increasing variety of bulk and neobulk cargo in addition to breakbulk. Much of the general cargo has migrated away from Durban in recent years. Exports remain the main activity of the port.
Port Layout
Situated at longitude 32º 02' E and latitude 28º 48' S, Richards Bay, South Africa's most northern and easterly port, is 87 nautical miles (160 km) northeast of Durban and 252 nautical miles (465 km) southwest of Maputo. The port occupies 2,157 ha of land area and 1,495 ha of water area, but has the potential to expand when required, making it potentially one of the largest ports in the world. The entrance channel is dredged to a permissible draught of 17,5m with a -19,5m depth in the entrance channel.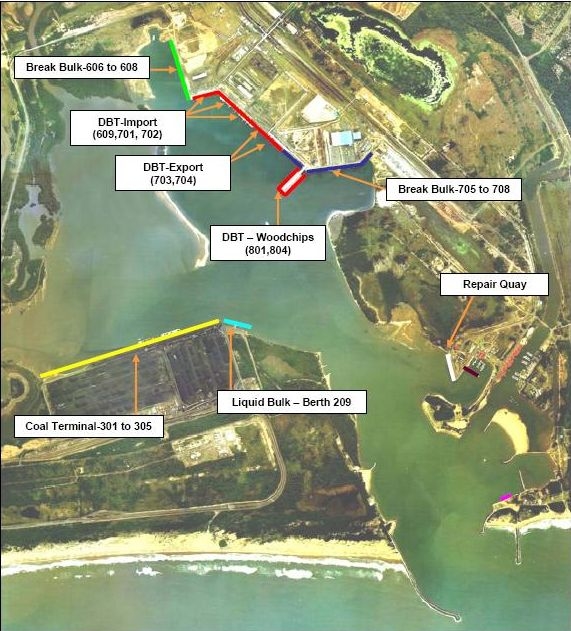 Aerial layout view of Port of Richards Bay
The outer anchorage is situated approximately 3-5 nautical miles south-east of the port entrance. An inner anchorage is available for emergency use only. The anchorage immediately to the north of the harbour entrance channel is a prohibited area due to the location of an offshore pipeline.

Pilotage is compulsory for all vessels, and there is a fleet of five tugs owned and operated by the Transnet National Ports Authority (TNPA).

Berthing depth varies between 8m (small craft berth) and 19m (coal berths).
Documentation
Immigration
Two Crew Lists
Customs
Two Crew Lists
One Ships Store List
List of Narcotics
One Customs DA5 form
One Declaration of crew's personal effects
Load line/Safety Radio/Equipment Cert
Port Health
One Vaccinations List
One Crew List
One Maritime Declaration of Health
Ships Agency
Two Crew Lists
One copy of Ship's Register
One copy of International Tonnage Certificate (1969)
One copy of International Safety Management Certificate
Port Facilities:
Berth Lengths and Draughts
All berths are fitted with fenders. Berthing gangs are provided by Transnet National Ports Authority, and the use of this service, is compulsory. There are at present 21 berths in service, including those at the privately operated Richards Bay Coal Terminal but excluding the dredger and tug berths. An additional coal berth is currently under construction.
The port of Richards Bay contains a dry bulk terminal, a multi-purpose terminal and the privately operated coal terminal. Other private operators within the port include several wood chip export terminals and a bulk liquid terminal. The port has extensive rail and conveyor belt systems servicing the berths from nearby factories and plants.
Richards Bay Coal Terminal (RBCT)
During its 2005 financial year the Richards Bay Coal Terminal (RBCT) handled 68,35 million tons of export coal, an increase of 2,3% on the previous year (66,83m in 2004). The terminal is currently undergoing a refurbishment to increase its capacity to 92 million tons annually. Ships are handled at four berths (301-304), each 350m in length with a -19m water depth alongside and a permissible draught of 17.5m. The adjacent 209 chemical berth is 300m long and has a depth alongside of -14m with a permissible draught of 12.5m. Trains with an average payload of 16,800 tons on 200 wagons deliver coal to RBCT in a continuous process that sees 30-35 trains per day arrive at the terminal.

A maximum of 6 million tons of coal can be stockpiled at the terminal. There are 80km of rail track within the RBCT complex. The terminal has handled well in excess of 1 billion tons of coal for export since opening. The coal terminal at Richards Bay has four ship loaders, two of which have a nominal loading rate of 8,500 t/h, one with a rate of 10,000 t/h, and the fourth with a rate of 11,000 t/h. By ratio, it is conceivable that RBCT can at this stage achieve a total throughput of 77 million tons.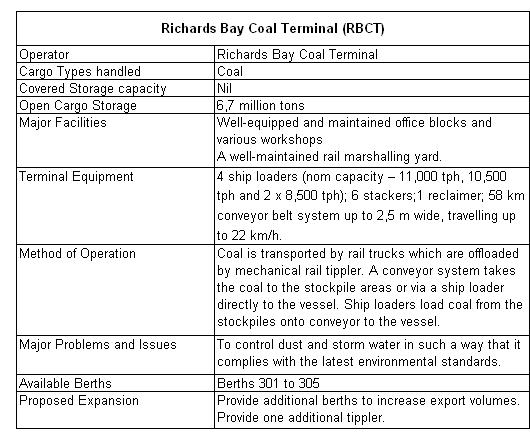 Richards Bay Dry Bulk Terminal
The terminal has the use of three import and five export berths. Total throughput capacity is 18 million tons per annum. Extensive use is made of multiple use conveyor systems which require thorough cleaning after each commodity. The terminal currently handles about 12 million tons of dry bulk cargo annually for import and export, consisting mainly of ores and mineral cargo.

In 2005/2006, the Woodchip Terminal, which is situated at berths 801 and 804, exported 4.6 million tons at an average berth occupancy of 65 %. A high-volume woodchip loader commissioned in 2004 has made this terminal one of the world's best and most efficient woodchip loading facilities. The general export berths (703,704) handled a combined total of 2.8 million tons during the 2005/2006 financial year. During this period, an average physical berth occupancy of 70 % was achieved. The throughput capacity of the terminal has been upgraded from 11 to 18 million tons per annum. The land surface area is 60,2 hectares.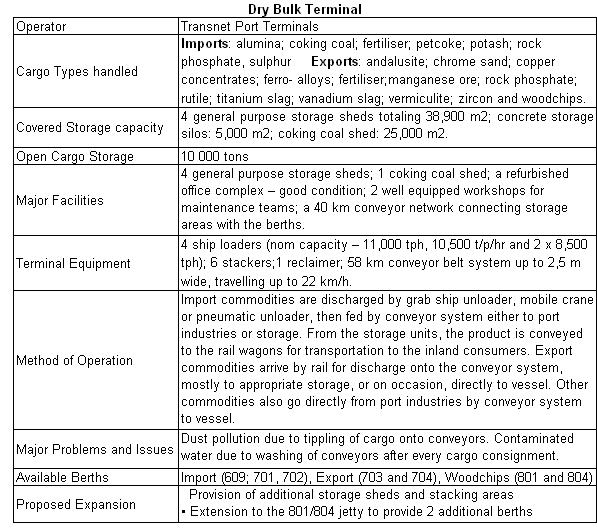 Richards Bay MPT
The Richards Bay Multi-Purpose Terminal is the product of the merging of two separate terminals, namely the Bulk Metal and Combi terminals. The resultant integration of infrastructure and facilities has enhanced the terminal's ability to manage a variety of cargo types, namely breakbulk, neobulk and containers. The MPT terminal operates 24 hours a day and is open for 363 days a year. The multi-purpose terminal specialises in raw and semi-processed materials such as steel, ferro-alloys and forest products. The terminal currently operates across seven berths in the port. The terminal has a throughput capacity of 5,6 million tons per annum and covers a land surface area of 62,2 hectares.The terminal has extensive warehousing and covered storage areas for sensitive cargo, and a huge open storage area comprising 330,000m² for cargo handling. A specialised 75,000m² ferro-alloy handling facility is available.

In 2005/2006, berths 705 to 708 handled a total of 3.9 million tons, with an average occupancy factor of 70 %. These volumes were made up of forest products, aluminium, ferro metals, pig iron, bagged cargo and containers. The port of Richards Bay presently handles small volumes of containers (approximately 5,179 TEUs per annum), which are handled through berths 706 to 708 by means of ship's gear and mobile cranes. These berths are considered to have reached their capacity based on present operations (950 000 tons per berth). In comparison, berths 606 to 608 handled 1.1 million tons of breakbulk cargo (scrap metal, granite and ferro-chrome) in 2005/2006. The average berth occupancy was 50%.
Berths
K 606,607 & 608 - permissible draft 13,5m
K 705 - permissible draft 17,5m
K 706, 707 & 708 - permissible draft 13,5m

Commodities/Cargoes
• Ferro-alloys • Steel • Pig iron
• Forest products • Aluminium • Project cargo/Heavy lifts
• Containers • Loose bulk • Pitch coke
• General (e.g. bags/ drums) • Scrap steel and granite
Richards Bay Liquid Bulk Terminal
Richard Bay has a single dedicated liquid bulk berth (Berth 209) which handled 1,129 051 tons of bulk liquids in 2005/2006 The maximum vessel size permitted alongside berth 209 is 225 metres LOA (lenth overall), 12,5 metres draft or not more than 67 000 dwt.
Berths 209 along with berths 301 and 302, also have bunker points. Bunkers can also be provided by a bunker barge at all berths.
Other Private Operators
Sasol Agri
Operator: Sasol Agri.
Commodity: Phosphoric acid.
Storage: In 4 tanks of 11,000 tons capacity.
Equipment: Pipeline operation (connect pipes to tankers).
Berths: 608/ 609 - permissible drafts of 13,5m and 14,0m.
Land surface Area: 1,309 hectares.
Marine Services
A fully equipped diving service is available for ship inspection. Ship repair is undertaken at the quayside (usually the small craft berth), as the port currently has no ship repair facilities, although a large facility is being planned. A dry or floating dock is under consideration. Cruise ships make use of either the small craft berth or one of the normal cargo-handling berths, depending on the size of the ship. There is a modern marina at the small craft basin. Water sports and recreational facilities are available in the harbour at reserved places.
Marine Craft
Richards Bay operates a fleet of five tugs owned and operated by the Transnet National Ports Authority (TNPA). Four of these are identical Voith Schneider-type craft built in 1974 with 43-ton bollard pull - Ibakhu (formerly JH Botha), Indwa (formerly Jan Haywood), Uhuva (ex W Marshall Clarke), and Uzavolo (formerly RH Tarpey). Two are for sale. The fifth tug is a Voith Schneider-type named Indlazi, built in 2002 with a bollard pull of about 55 tons. The tugs are maintained to SAMSA class 8 standard, and are equipped for fire fighting and salvage. The port also employs a twin-screw diesel work boat/tug of the Tern class named Swift Tern, which has a bollard pull of 19 tons. This vessel entered service at Richards Bay in September 1998, and also provides pilotage transfers when necessary. A pilot service was provided by an Agusta A109 K2 'HPS' twin-engine 8-seat helicopter which was operated by Balmoral Maintenance Services. The aircraft based at Richards Bay, however, was involved in an accident and has yet to be replaced. In the meantime, two diesel-powered pilot boats (named Ivubu and Ballito) are in service. Dredging is performed by the TNPA on an continual basis inside the port and immediately outside the entrance, using a trail suction hopper dredger named Ingwenya (formerly HR Moffatt). The port operates a single screw launch named Piet-my-Vrou. The NSRI base at Richards Bay includes a deep-sea rescue craft.
General

• Repairs - Facilities exist for most types of repair work to vessels. No dry-dock available. Diving and engineering companies available.
• Dock ship repair facilities - No dry-dock available.
Linkages
A dedicated railway line connects the port with Mpumalanga and Gauteng, and was designed specifically to handle the majority of South Afroca's coal exports. Other rail links connect Richards Bay with Durban in the south, and Swaziland and Mpumalanga to the north. There is an adequate road system to Gauteng, Swaziland, Mozambique and Mpumalanga, and an excellent road south to Durban. The port has extensive rail and conveyor belt systems, servicing the berths from nearby factories and plants.


Port Volumes
The table below illustrates the tonnage handled in 2005/2006 versus the actual capacity of the terminals.
In the calender year of 2006, the Port of Richards Bay handled a total of 1575 vessels. The total volume handled was 86,319,200 tons, of which 81,384,838 tons were bulk cargo and 4,934,362 tons breakbulk.

Exports amounted to 80,050,728 tons of which bulk cargo made up 75,075,617 tons, coastwise 171,803 tons and breakbulk 4,803,308 tons.

Imports amounted to 6,268,335 tons of which breakbulk made up 130,917 tons and bulk cargo 6,137,418 tons. Of the bulk cargo landed, 316,850 tons were coastal. Transhipment of cargo totalled only 137 tons.

For the 2006/07 financial year, 63,540,607 tons of coal, 3,728,948 tons of woodchips and 2,798,517 tons of ferroy- alloys were exported. Most of the imports were made up of aluminium (1,560,662 tons) and coal (1,661,533 tons).