HISTORICAL DEVELOPMENT OF THE RAIL SYSTEM
The railways of KwaZulu-Natal perform an essential import and export function for traffic between the ports of Durban and Richards Bay and the hinterland [Gauteng and points to the north]. Railways in the province were not affected by the demarcation of new provincial boundaries in 1994, and the railway system has remained unchanged.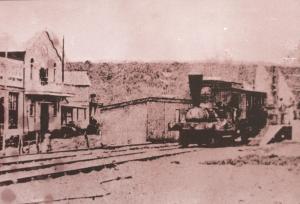 Durban Point Station and Loco
The development of passenger and rail freight transport in KZN began with the construction of the first railway line from Durban city to the Point harbour area in 1860. This railway was constructed to a gauge of 1 435mm (4'- 8½") but, when it was decided to build a railway inland, a narrower gauge of 1 065mm gauge (3'- 6") was introduced because of the very difficult topography. The line was opened to Pietermaritzburg in 1880 and extended to Glencoe by 1889 to exploit coal deposits in the area.

The real goal was to reach the Witwatersrand goldfields. Volksrust on the Transvaal border was reached in 1895, forming a through route to Johannesburg. The important Free State link from Ladysmith to Kroonstad was opened to Harrismith in 1892 and completed by 1906.

The North Coast mainline was constructed when the Durban to Canelands section was opened in 1879. This was extended to Stanger in 1897 and the Tugela River in 1898. The line later reached Somkele, site of a coal deposit, in 1903. Golela on the Swaziland border was reached in 1927. The South Coast mainline was opened to Park Rynie in 1897 and Port Shepstone in 1907.
The first branch line - from Pietermaritzburg to Richmond - was opened in 1897, and the Greytown branch in 1900. Also running from Pietermaritzburg, the Cape- Natal branch was opened from 1904 reaching Franklin in 1912. Other short branch lines were opened to various agricultural development areas in the early 20th century, and this included a number of 610mm (2"-0") 'ultra' narrow-gauge lines to Weenen, Mid Illovo, Ixopo and Harding.

A number of branch line closures have taken place in recent years. This has included all 610mm-gauge branch lines, as well as some 1,065mm-gauge lines. By contrast, the development of Richards Bay as a coal export harbour and the construction of the coal line from Mpumalanga in the mid-1970s was a significant development, not only for the movement of coal but also for a wide range of commodities.

The Durban to Volksrust (and Gauteng) mainline is South Africa's most important general freight line, and is indispensable for import/export traffic. The extension of the North Coast line into Swaziland and Mpumalanga has promoted development in those areas while the branch lines in the Midlands provide vital transport for forestry products. Other commodities such as sugarcane, refined sugar products, grains, coal, iron and manganese ore, and finished steel products flow over various railway lines.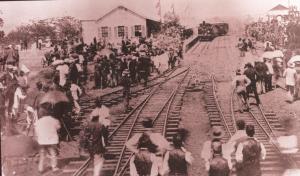 Pietermaritzburg arrival of first train